Akleza to Demonstrate Latest DOCSIS® 3.1 Proactive Network Maintenance Technology at CableLabs® Summer Conference
2018-08-04 12:00:00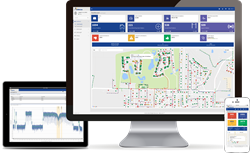 Akleza CableDiag PNM Platform
EVERGREEN, Colo. August 03, 2018
Akleza, the leading provider of Proactive Network Maintenance tools for broadband cable operators, will be introducing and demonstrating its latest features at the CableLabs Summer Conference, a private event attended by CableLabs members, being held next week in Keystone, Colorado. These latest features leverage the Proactive Network Maintenance data specified within the CableLabs DOCSIS 3.1 specifications and available within DOCSIS 3.1 complaint Cable Modems to help identify and diagnose problems that are impacting the DOCSIS 3.1 OFDM signal.
"With DOCSIS 3.1, Proactive Network Maintenance metrics were built into the standards from the very beginning giving us unparalleled visibility and the ability to identify and correct issues before they become service impacting", said James Medlock, Founder and CEO of Akleza.
In today's always connected world, simple rules around when to do disruptive system maintenance no longer exist. With the increased use of streaming services for content, subscribers working working from home, and children attending online classes, it is difficult to determine when maintenance in any given area might impact the fewest people. By leveraging and integrating its IPDR data collection technology, Akleza's CableDiag platform can now suggest an Optimal Maintenance Window based on the impacted subscribers, usage patterns of those subscribers, and expected maintenance duration.
Akleza will be demonstrating these DOCSIS 3.1 and Optimal Maintenance Window scheduling capabilities along with all the other PNM features available within its CableDiag platform, including, Pre-Equalization data analysis used to identify micro-reflections caused by impairments in the physical cable plant, downstream Full Band Capture allowing technicians to use existing DOCSIS devices as remote software based spectrum analyzers, and Upstream Spectrum Capture leveraging the ability of the CMTS or Remote PHY device to directly capture return path spectrum.
About Akleza, Inc.
Based in Colorado, Akleza is a leading provider of PNM solutions for cable operators worldwide. Our comprehensive set of software based diagnostic tools can be deployed within our private cloud or within the cable operator's data center. The CableDiag platform takes advantage of the existing capabilities of the HFC network, not requiring any additional monitoring or test hardware. Our mission is to help operators pro-actively monitor and improve their cable plants performance thereby enhancing customer satisfaction. To learn more, visit akleza.com, or connect with us on LinkedIn.