Cruisin' The Coast® Chosen Nation's Best Car Event
2018-08-04 12:00:00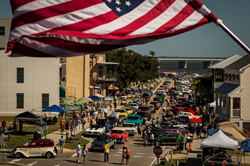 Cruisin' The Coast
Hospitality and friendliness have been a part of our event from day one.
BILOXI, Miss. August 03, 2018
What we've all known for a long time is now a fact across the country, Cruisin' The Coast® (CTC) has been voted as America's best car event, according to USA Today's 10Best.com.
In a public online vote, CTC received the most nods in the car show category of the USA Today 10Best Readers' Choice Awards for 2018, as announced today by the website. Voting was open for four weeks.
"We have been nominated for this award before, but it is great to know that so many of the people who know about Cruisin' The Coast think this highly of us," said Woody Bailey, CTC executive director. "Hospitality and friendliness have been a part of our event from day one, " he continued. "This, I think, is a reflection of years of hard work done by so many Coastians, our volunteers, board of directors, and staff."
10Best.com provides users with original, unbiased and experiential travel contest of top attractions, things to see and do, as well as restaurants for top destinations in the U.S. and around the world. USA Today is a multi-platform news and information media company founded in 1982.
"I don't know if we're going to get a trophy or a plaque or what," said Bailey, "but knowing we are number one is enough for us." Cruisin' The Coast® started in 1996 with 374 registered vehicles, mostly from the Gulf Coast region. In 2017, the event registered 8,303 vehicles from 40 states, Canada, Germany and Puerto Rico.
Cruisin' The Coast® 2018 is Sept. 30 - Oct. 7. Details and a complete schedule can be found at http://www.cruisinthecoast.com.