Digital Version of 5StarWines - the Book 2019 Now Online
2018-08-04 12:00:00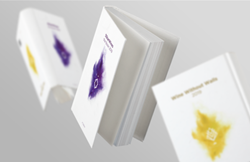 The print version will come out in September and we are looking forward to opening submissions for the next 5StarWines Grand Tastings also in September
August 03, 2018
5StarWines - The Book 2019 is a wine-guide showcasing all the wines selected at 5StarWines, the three day blind tasting where wineries that invested in the improvement of their products can receive feedback from a highly-qualified, international panel of judges. Wines were tasted blind by 95 wine professionals, including Senior General Chairman, Ian D'Agata, General Chairmen Pedro Ballesteros Torres MW, Robert Joseph, and Bernard Burtschy.
Putting all of these wines together into one wine guide has been a courageous project accomplished through the collaboration among Vinitaly, Veronafiere, Assoenologi and ICE-ITA (Italian Trade Agency). The cover of the wine guide with its stardust motif references the immensity of the wine universe and is an invitation to discover wines from many parts of the world. As Stevie Kim, Managing Director at Vinitaly International, explains, "This wine guide comprises 625 excellent wines from all over the world. The purple (yellow for Wine Without Walls) star dust is the symbol of having all of those wines in your hands. The print version will come out in September and we are looking forward to opening submissions for the next 5StarWines Grand Tastings also in September."
Italian wines shined brightly this year, showcasing Italy's diversity from the North to the South. Winery of the Year - Gran Vinitaly 2018—the maximum recognition for a producer who attained the best score with at least two different wines—went to Cantine del Notaio from the Basilicata region in Italy. Additionally, the best Italian wine with highest overall score went to Cantina Silvio Carta from Sardinia. Pedro Ballesteros Torres MW states, "5StarWines is a major tool for Italian producers to receive feedback on how the quality of their wines is perceived by top-level experts from all over the world." However, wines from outside of Italy ranked highly as well. Sudsteiermark Pradikatswein Riesling Trockenbeerenauslese 2013 by Lackner Tinnacher from Austria was chosen as one of the best sweet wines, and Champagne Brut Millesime 2008 by Chassenay d'Arce from France was chosen as the best sparkling wine. Wines that scored 90 points out of 100 were included in the guide.
A special feature of the guide (and of the event) is Wine Without Walls, a section solely dedicated to wines either without added sulphites or wines with total quantity of sulphites (naturally produced and added ones) not higher than 50mg/l. Chaired by biodynamic wine expert Monty Waldin along with fellow judges Richard Kershaw MW, Christopher Barnes, Gill Gordon Smith, and Regina Lee, Wine Without Walls gives recognition to the growing importance and relevance of natural wines. The assessment criteria for the tasting were not numerical but rather descriptive and included, among others, liveliness, individuality, and sense of place. "One of the delights of judging wines made by people working in tune with nature, rather than working against it, is that the wines show a brightness and levity which makes wine tasting a joy rather than a chore," states Monty Waldin, adding that "as for the 2018 Wine Without Walls blind tasting, the panel of judges was unanimous in agreeing that the wines far exceeded their expectations in terms of quality, complexity and, most importantly, value."
Upon the official online release of the wine guide, Maurizio Danese, President of Veronafiere explains that the online and print versions are part of a wider digital innovation strategy: "The guide project is complemented by the agreement reached with Wine-Searcher, one of the world's most famous online wine search engines, to develop a catalogue of labels selected by 5StarWines. This is yet another contribution to the promotion of the selected wines, which, in this way, gain access to internationally renowned, high-visibility channels that are even used by final consumers." Giovanni Mantovani, CEO of Veronafiere, also shares an interesting insight about the impact of the 5StarWines selection: "The big-data analysis for Vinitaly 2018 shows that the 10 most-visited exhibitors are all producers of wines selected by 5StarWines. For this reason, as of Vinitaly 2019, we intend to extend the range of digital services offered to these producers by introducing proximity notifications to selected buyers, semantic catalogue search tools, and analysis of social sentiment."
The full content of 5StarWines - the Book 2019 is available here: http://www.5starwines.it/the-book-2/?lang=en. The print version will be released in September 2018, followed by the opening of registrations for the next edition of 5StarWines Grand Tasting.
About:
The grand Vinitaly 2019 will be held from April 7th to the 10th. Every year, Vinitaly counts more than 4,000 exhibitors on a 100,000+ square meter area and 130,000 visitors from over 140 different countries with more than 30,000 top international buyers. The premier event to Vinitaly, OperaWine (https://www.vinitalyinternational.com/?page_id=646) "Finest Italian Wines: 100 Great Producers," which will be held on the 6th of April, one day prior to Vinitaly will unite international wine professionals in the heart of Verona, offering them the unique opportunity to discover and taste the wines of the 100 Best Italian Producers, as selected by Wine Spectator. Since 1998 Vinitaly International travels to several countries such as Russia, China, USA and Hong Kong thanks to its strategic arm abroad, Vinitaly International. In February 2014 Vinitaly International launched an educational project, the Vinitaly International Academy (VIA) with the aim of divulging and broadcasting the excellence and diversity of Italian wine around the globe. VIA this year launched the seventh edition of its Certification Course and today counts 151 Italian Wine Ambassadors and 11 Italian Wine Experts.