KIND LED Grow Lights Essential to Successful Commercial Grow in Colorado
2018-08-04 12:00:00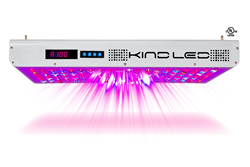 K5 Series XL1000 Indoor LED Grow Light
We are already seeing the benefits of using KIND LEDs. If you want to save yourself money, get a few KIND LEDs, they will offset your costs tremendously and give you amazing results
SAN FRANCISCO August 03, 2018
The Herbal Garden in Pueblo, Colorado is exclusively utilizing KIND LED Grow Lights, the world's top selling grow lights, to power its state-of-the-art grow facility.
Powered by nearly 200 K5 XL1000 KIND LED Grow Lights, The Herbal Garden has revolutionized its facility, which is now running quieter, cooler and more efficiently.
Watch the video of how The Herbal Garden is growing with Kind LED Grow Lights: https://www.youtube.com/watch?v=LPeZNhCWm6Y
"We now run 100 percent KIND LEDs, so we are contributing to the solution not the problem," said Dave Ashby, The Herbal Garden's Master Grower. "We are already seeing the benefits of using KIND LEDs. If you want to save yourself money, get a few KIND LEDs, they will offset your costs tremendously and give you amazing results."
The K5 Series of KIND LED Grow Lights is a commercial line offering an ideal mix of three and five watt diodes helping to increase overall efficiency and intensity. Featuring a dimmable spectrum, the K5 Series offers full spectrum control that allows digital tuning to match any plant type at any stage of growth, veg or flower. Offering an extra-large footprint and secondary optical lenses, the K5 Series focuses PAR and increases canopy penetration by up to 200 percent leading to increased yield.
"Our commercial LED grow lights are designed to increase revenue per square foot while at the same time reducing operating costs," said Rory Kagan, CEO of KIND LED Grow Lights. "The Herbal Garden approached us with a need for a grow light to deliver consistent high-quality, year-round crop production. Since KIND LED grow lights are known for significantly increasing crop quality, both in potency and terpene production, we knew we could exceed their expectations."
Available online at https://www.kindledgrowlights.com, and through hundreds of retailers nationwide, KIND LED Grow Lights makes advanced horticulture lighting technology accessible to both professional and recreational growers worldwide.
About KIND LED Grow Lights.
Sonoma County based KIND LED Grow Lights is the industry leader for indoor LED grow lights offering cutting-edge LED indoor grow light technology. Revolutionizing the indoor growing industry and founded by age old growers, KIND LED Grow Lights provide the most rewarding results possible for hydroponic and indoor gardens. Quickly becoming the world's top selling grow light, KIND LED received the S.T.A.S.H "Gear of the Year" award in 2014, 2015, 2016 and 2017. For more information or to purchase KIND LED Grow Lights products, please visit https://www.kindledgrowlights.com or search for #KINDLED on social media.